@Echo Neon | July 20, 2023 | 10 minutes read
Love is an amazing feeling, especially when you find that special someone to share it with. So why not express your feelings in the most beautiful way possible? With a love neon sign. 
In this post, we reveal the best romantic neon signs to express your love and affection to your loved ones in 2023. We also tell you the best place to customise your love neon signs. Let's dive in.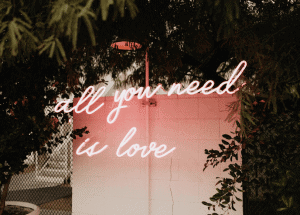 Best Romantic Neon Signs To Say "I Love You" in 2023
Here are the best neon signs to say "I Love You" in 2023:
1. La Vie En Rose Red Neon Sign
Show how much your partner means to you with the La Vie En Rose neon sign. This neon love sign is inspired by the popular song by Edith Piaf and it would make a perfect anniversary present to your partner. 
You can also hang this neon sign in your bedroom to illuminate your space and remind you both of the passionate feelings you share.
2. Be My Valentine Love Neon Sign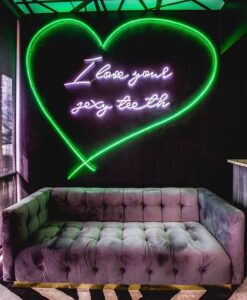 Are you looking for a romantic way to ask him or her to be your valentine? Look no further than the "Be my Valentine" neon sign. This neon love sign features an alluring cursive font and a beautiful red glow that is guaranteed to give you a Big Grin Yes! 
This love sign will also create a romantic ambiance for your dinner date, movie night, romantic picnic, and other lovely occasions. You can expect a bright smile on your date's face whenever they look at the love neon sign on the wall. 
3. Hearts Neon Sign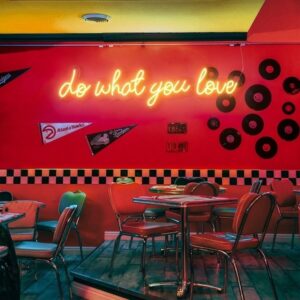 Set the mood for a romantic evening with our Hearts Neon Sign. The neon sign displays many heart-shaped icons on the wall all lit using gorgeous red lights. 
This neon sign can be used to decorate your wedding venue, reception, and honeymoon destination. You can also hang it in your home or bedroom to create an atmosphere of love and romance for you and your partner to enjoy. 
4. Drunk In Love Blue Neon Sign
Nothing says I Love You better than a neon sign inspired by the Carters. This Drunk In Love Neon Sign displays the words "Drunk in Love" in cool blue lighting and an animated font. This neon sign would make a perfect gift to your partner and the cool blue glow makes it a nice decor item to have in your home and bedroom. 
5. Lettered Love Neon Light
Wanna show your loved ones how much you love them? Then display this Love neon sign on the wall of your home or give it to them as a gift. The sign displays the word "LOVE" on the wall in vibrant white light that would light up any room and remind your loved ones of how much they mean to you whenever they look at it. 
Where Can You Make Custom Love Neon Signs?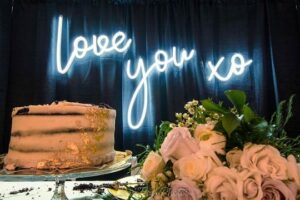 You can customise your love neon sign at Echo Neon. We are a neon sign manufacturing company in Australia and we make custom neon signs in our studios to give our customers pocket-friendly prices and the best quality. 
A custom love neon sign showcases effort and intent on your part and your loved one would surely appreciate it. It's also a beautiful way to personalise your message to them on special occasions. 
To customise your love neon sign, upload your favourite design on our website and pick your preferred size, colour, and font. Our experts will use laser-cutting technology to cut out components to create a neon sign replica of your uploaded design. 
You can have your custom love neon sign made and delivered to you in less than 3 weeks. We also offer free shipping on all custom neon love signs. 

Final Words
In summary, a love neon sign is a nice way to show your partner, friends, and loved ones how much you appreciate them in your life. You can purchase a love neon sign or customise a unique one at a budget-friendly price at Echo Neon. Display your love and affection to that special someone today with a love neon sign and put a wide smile on their face.