@Echo Neon | June 9, 2023 | 10 minutes read
The walls of your home, office, and business place determine the tone and ambiance of your space. If your walls are beautiful, then your space will look more fun and inviting to people. It's important to pay attention to your walls, especially if you run a store or business and you'd like to attract potential customers. 
This post reveals in-trend ways to add aesthetics to your walls in 2023. Let's dive in.

Aesthetic Neon Wall Art for Home Décor
Here are trendy and stylish ways to add beauty to your walls:
1. Aesthetic Neon Wall Art for Home Décor
Neon wall signs give your walls the aesthetic appeal to make your space stand out. The colourful display and cool lightning of a neon sign wall art also bring a fun and exciting atmosphere to your space. 
Whether you are decorating your walls for an upcoming event or you just want to give your home decor a modern uplift, a neon wall sign will do the trick. There is a wide range of neon wall signs to choose from. You can go for this Sky Clock neon wall sign or this kid-friendly Castle neon wall sign to create a point of interest on your wall.   
2. DIY Wall Art
Fancy some arts and crafts? Then DIY your wall art. This is a cool way to showcase your talents to guests and give your walls an aesthetic uplift. You can create a statue from clay, make a wall drawing, collect nature, or weave a basket and hang it on the wall. 
You can also make a minimalistic wall art and hang it inside this Circle neon wall sign to draw people's attention to your masterpiece. 
3. Shimmer Wall Panels
Shimmer wall panels bring new meaning to wall art. These panels have hundreds of silver sequins that flutter with the wind to create a shiny effect on your walls. Shimmer panels are cool for special events and parties because of the glamour they add to the occasion. The panels will make your walls a shiny backdrop to capture memories and have a good time.
4. LED Neon Lamps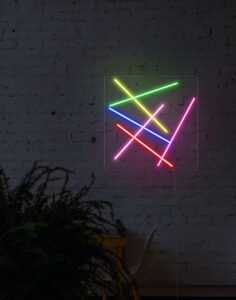 Ever heard of LED neon lamps? You can brighten any space by hanging these wall neon lamps on the wall. They are lightweight and easy to install anywhere you want. The fun part of these neon wall tubes is that you can create shapes and images with them. 
They are like glow sticks that can be arranged to spell out words or display images on the wall of your space. If you are planning an upcoming party or concert, LED neon lamps for walls are a must-have. 
5. Wall Painting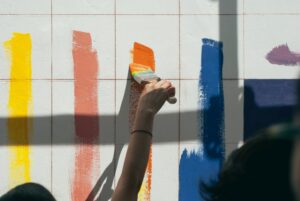 Wall paintings add a touch of class and luxury to your walls. You can go for historical paintings, landscape and nature paintings, abstract or even celebrity paintings to class up your walls and room decor. If you wish, you can choose the type of paint too. Most people use oil paintings because they look realistic and last longer. 
6. Fan Posters and Flyers
Are you a fan of a music band or sports team? Then display your love and support on the wall for the world to see. You can hang posters and flyers that represent your favourite team or artist on the wall of your home to show you are a true fan. These posters also have a way of making your space look more fun and inviting. Posters are also a cool conversation starter with guests.
7. Photo Frames
Hang your favourite pictures on the walls of your living room and bedroom to beautify your space. These could be family photos, pictures of your kids, or photos you took during a road trip. The pictures will create a wall of beautiful memories in your home. 
You can also illuminate these photos with neon wall lights. The cool lighting from the wall neon light will bounce off the photos to make them look more beautiful, especially at night. 
8. Add a Statement Piece On The Wall
You can also decorate your walls with a statement piece from your favourite quote or image. If you own a business or store, you can make a custom neon wall sign to display the business name, tagline, or logo on the walls to beautify your space and advertise your brand. 
You can also customise a neon wall sign to display your family name on your living room wall. This is a statement piece that adds personality and identity to your walls. 
Final Words
In summary, your walls are a huge determinant of how your decor comes out. The most beautiful apartments, offices, and business places have wall art to add aesthetic appeal to the building. 
If you'd like your walls to pop and make your space more beautiful and inviting, you should try out a neon wall sign. The beautiful display from a neon sign will thrill your guests and make your space more beautiful. You can even customise a unique neon wall sign to make your space stand out. To know more about custom neon wall signs, visit Echo Neon.