@Echo Neon | April 27th, 2023 | 10 minutes read
Gone are the days when neon signs were used for just business advertising. Today, your home decor isn't complete without a cool neon sign hanging on the wall somewhere. 
If you want cool lighting to transform your home decor? Look no further than neon signs. Their beautiful blend of colours illuminates rooms and makes you truly feel at home. This post reveals cool ways to brighten your home with neon signs. Let's check them out. 

Ways To Brighten Your Home With Neon Signs?
Here are perfect ways to use neon signs to illuminate your home:
Neon Signs Can Light Up The Entrance To Your Home
There is no better way to welcome guests to your home than with a neon sign at the entrance. The vibrant glow of the neon sign will light up the way and set a friendly tone for family and friends. You can hang this purple Aloha neon sign by your front porch or deck to show off your Hawaiian spirit!
Neon Signs Can Brighten Your Living Room

A living room neon sign will not only brighten your space, but make it a perfect space for you to have a fun time with the lads, kids, and family. It can also make your living room your happy place to unwind and enjoy some me time. 
This Movie night popcorn neon sign will look great in your living room. You can hang it by the TV to create a cinematic experience for movie nights with the fam.
Here are cool spots to hang a neon sign in your living room:
On the wall above the sofa.

Above the fireplace.

By the entertainment set.

By the shelf or reading corner.
Neon Signs Glow Up Your Bedroom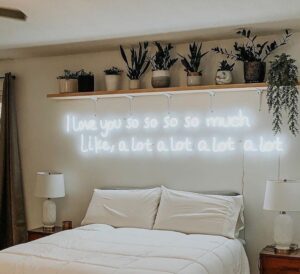 The cool light and design from a neon sign will glow up your bedroom and transform your space into a sleep paradise. You can hang this bedroom neon sign by your dresser or above your bed to give your space an alternative light source. 
You can also find kid-friendly neon signs to beautify your kid's bedrooms. If you want, you can dim the lights from the neon sign before sleeping, but rest assured, the neon sign won't hurt your eyes. Neon lights for bedroom are a must-have.  
Neon Signs Brighten Your Walls and Hallway
Deck your walls with neon wall signs to brighten your hallway and make your home more beautiful. Many homes use neon signs on their walls, especially during the holiday and festive period. You can hang this Crystal Chandelier neon sign by your hallway to light up and beautify your pictures.
Neon Signs Can Light Up Your Man Cave
Got a man cave? Why not hang a neon sign in your man cave to brighten the space? The neon design could be inspired by your favourite sports team, artist, or band. A man cave neon sign will make the lads jealous of your room while making it the perfect space to hang out on game and movie nights. 
Neon Signs In Your Kitchen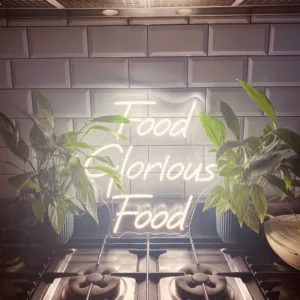 Do you want your kitchen and dining area to pop? Then hang a neon sign on the wall or suspend one from the roof. A neon sign in your kitchen space will make it more beautiful and give it a modern feel. This Baguette neon sign will look great in any kitchen and will make the space a nice spot to wine and dine. 
Neon Signs In Your Home Office or Library
Illuminate your home office or library with the cool lighting of a neon sign. The neon sign could be drawn from your favourite quote or mantra to give you all the motivation needed to get your day going. If you are a vlogger or content creator, the glow from this Glowsticks neon sign will make your workspace and videos pop.
Where To Buy The Best Neon Signs For Your Home?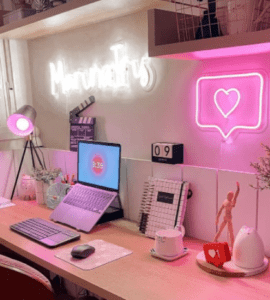 Looking for where to buy quality and trendy neon signs to brighten your home? Check out Echo Neon. We have a ton of home decor neon signs for you to choose from and if you want, we can build a custom home decor neon sign for you.  
All our neon signs are safe, durable, and designed with newly launched RGB switchable colour and RGB dynamic colour. We also give our customers unbeatable prices and discounts.  
Final Words
In summary, neon signs are excellent decor items used in homes for their colourful and vibrant lights. There are several types of home decor neon signs to choose from and you can have one customised for you if you want. So, get a neon sign today and enjoy the beautiful glow it brings to your space.