@Echo Neon | Aug 11th, 2023 | 10 minutes read
Summer is a favourite season for several people—bright skies, a warm atmosphere, and great weather for outdoor activities. The summer season is also a great time to hold events you have been planning all year. Whether it is beach parties, family get-togethers, reunions, or office picnics, summer creates an avenue for fun-filled activities.
However, adequate planning and organization for your event are vital to creating lasting memories. In this article, we'll explore great summer party decoration ideas to help plan a colourful and fun-filled summer party.
Summer Party Theme Inspirations
A summer party can be inspired by several factors, one of such is the desire to spend time with your friends and family. To effectively plan your summer party, the first step is to decide on a theme. Your party theme will help to determine the types of decorations and other critical inputs for a successful event. Hence, here are a few ideas:
Park Picnic: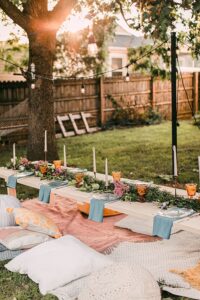 One fun way to spend your summer is a gathering at the park with your special people. It is an easy and convenient option for a summer party; choose a local park close to you and set up some blankets. Decorations can be as minimal as possible to create an inviting ambience.
Refreshments should be planned to accommodate everyone, and always have chilled bottles to help with the warmth. You can keep everyone entertained with some games like Monopoly or Frisbee. It is an excellent option for family reunions, office gatherings, or get-togethers with friends.
Summer Beach Party:
It is summer season, so it is beach season! The beach is the perfect place to unwind and let off some summer heat. Going to the beach with your loved ones makes it an even better experience. You can spice things up with a bonfire when it's not so warm at sunset.
It's an excellent opportunity to catch up with your loved ones away from everyone's busy schedules and activities. You can enjoy great music and drinks from a beach club while you catch up. Incredible decorations can help to give the perfect ambience, making everyone feel at ease.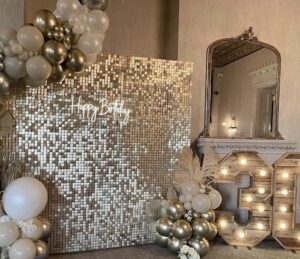 Pool Party:
Nothing is as refreshing as being in a pool of cool water to soak up some of summer's warmth. Inviting your special people to enjoy some refreshing moments makes it more enjoyable as you can create memorable moments.
You can hold a pool party in your pool or invite your people over to a local pool. Wherever you choose as your pool party location, incredible decorations, good music, and enough space are required for a successful event.
Summer Garden Party:
Your garden is another excellent choice for a small summer party with your family and close relations. The beautiful summer weather, in addition to the natural environment, helps to keep everyone warm and in a great mood. Gather everyone with their favourite snacks and drinks and some great mood, and watch memories get created.
The warm ambience means you do not need to set up too much for decorations. Minimalistic designs and lighting can help to enhance the atmosphere a bit without doing too much.
Ice cream-themed party: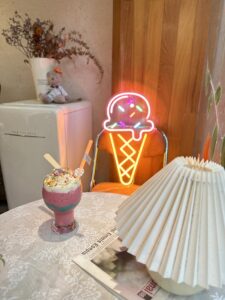 Are you seeking an "out of the blues" experience for your summer party? Then this party inspiration is a great one for you. Ice cream is typically a top choice for dessert in summer, and everyone loves ice cream, right?  
Hence, you can take advantage of this and organize an ice cream party with your friends. Set up an ice cream stand where there are several toppings and flavours of ice cream for everyone. You can make it more fun by using ice cream-inspired decorations to elevate the mood.
Summer Party Theme Decorations
There are several summer party ideas that can help make your time with your loved ones memorable, as we have discussed. However, decorations are a vital part of your events as they can help to boost the mood and aid relaxation. Great decorations can also help to infuse fun and togetherness in your gatherings. Hence, these must-have decoration items below will add flair, charm, and beauty to your summer party.  
Neon signs: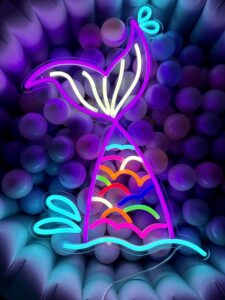 Using neon signs in your summer party can help transform the environment by adding a vibrant touch to your décor. The great thing about neon signs is that they are multifunctional and can work with any theme and setting. Whether it's a pool party, beach party, or a small family gathering in your garden, party neon signs are a worthy addition.
Here are some ideas and tips to help you set up a functional neon sign at your summer party;
Custom welcome signs: You can use neon signs to greet and welcome your guests at the entrance of the party venue.

Neon sign photo booth: You can also use neon signs to lighten up your backdrop with a cool phrase.

Neon signs are great for your summer garden party as they can help beautify your garden and illuminate it in the evenings.

Neon signs can help set the right mood for your pool party. Custom neon signs like "pool party vibes" are a great choice for pool decor.
Balloons: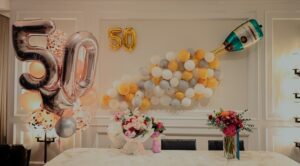 What is a party without fun items such as balloons? Balloons make everyone happy, and having such a necessary item at your party can significantly boost the mood. They are great for picnics, garden parties, and even pool parties. The critical thing is to properly set up your balloons away from direct sunlight and sharp objects, and you are good to go.
Some balloon ideas;
Create a balloon backdrop where your guests can take nice pictures.

Allow balloons to float in the pool to add colour to your pool area.

You can also line your pathways with balloons to guide your guests into the party venue. This is a great idea for garden parties.
Table decorations:
Table decorations are also a great party décor item to enhance the atmosphere at your summer party. Choose captivating table decoration items to improve the ambience and make your guests feel welcome.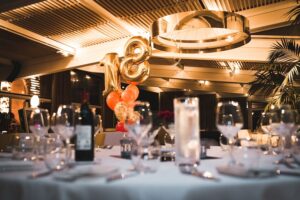 Some items to consider are lanterns, candles, colourful linens, colourful fruits as centrepieces, tropical palms, etc. Table decorations are an excellent choice for garden parties, tea parties, and fancy outdoor parties where tables will be used.
Flowers:
Flowers are a classic choice to help complement your party theme and other decorations. They are a versatile choice that can help add beauty and freshness to your summer party. There are several flower options: sunflowers, potted plants for the beach, daisies, roses, and wildflowers.
While flowers can give your event a breathtaking view, choosing options that fit your theme and party setup is essential.
Conclusion
The best time to hold memorable events with your loved ones is under the sun's warmth and in the spirit of summer. Poolside parties, beach parties, ice cream-themed parties, garden parties, picnics, and many more are the ways to enjoy summer.
You can choose any of these themes or ideas to create memorable experiences with your family. Don't forget to make it even more beautiful by adorning your party location with decoration items. Summer neon signs, balloons, flowers, shimmer wall backdrops, and table decorations are a few options. Explore your creativity and give your guests the best summer party!